Bheja fry – with "Thadka" Review , pics , story, Downloads , trailer
Bheja fry ( comedy 2007 ) – with "Thadka" Review , pics , story, Downloads , trailer
The film is called Bheja Fry, and as you can see from the picture alongside, stars (left to right) Ranvir Sheorey, Rajat Kapoor, Milind Soman and Vinay Pathak.
Cast: Sarika (Sheetal), Rajat Kapoor (Ranjeet Thandani, Vinay Pathak (Bharat Bhusahn), Ranvir Shorey (Asif, the income tax-officer), Milind Soman (Anant Ghoshal) and Bhairavi Goswami (Sunita Rao)
Director: Sagar Bellary
Doesn't let you think too much, nor does it give you the time to foresee the plot. It entertains, it makes you laugh but nonetheless does get difficult off and on.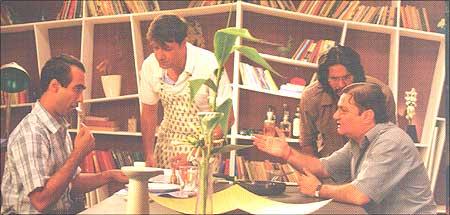 It the story of the high-society men, who host talent dinners every Friday. But this talent search is different, boss! A richie-rich find a talent every Friday and is made fun of. And the one who find the maximum number of talents wins!
Well, Ranjeet Thandani, owner of a music company, is always in search for his type of talent and he bumps into Bharat Bhushan.
Bhushan, who eats drinks and breathes music, cherishes the invite. However Sheetal, Ranjeet's wife detests his ways of making fun of innocent people and leaves the house.
And thus begins the chaos। Ranjeet hurts his back… Bharat is the only one to help.
Alternate Link
Ranjeet calls for doctor, Bharat calls his girlfriend… Ranjeet searches for his wife, Bharat talks him into calling her ex-boyfriend… Ranjeet wants to put things in place, but Bharat does everything to mess it up… innocently!
There is not much to mention about the cinematography and editing. The script too does not have too much to be written about. But what's worth mentioning is the finesse with which it's etched out. After a few shots here and there, the stage for the drama get set – Ranjeet's house. One fiasco unfolds after another and even before one problem is sorted out, another pushes in.
The film, however, belongs to Vinay Pathak's character – Bharat Bhushan. Every scene, every setting and every dialogue needs his presence. Even though his presence in Ranjeet's house is absurd, the character is stretched till the very last scene, and mind you, not without a reason.
Vinay has completely seeped into his character's skin and makes you laugh at his character's expense. Everything about him is perfect – his 'champi' looks, his loud attitude, his laughing style and his mannerism. His comic timing is flawless and he is truly an idiot personified!
NEW FORMULA: Welcome to a new brand of Bollywood which relies more on brains than brawn (Agencies)
Ranvir Shorey doesn't have much of a presence but has done his job well. Sarika too, doesn't get a fair chance to deliver her best, however, she has looked pretty as ever.
Rajat Kapoor is brilliant as ever and has his timings perfect.
But Bheja Fry has its own glitches. To begin with, Milind Soman! His presence, his dialogues, his laughter and of course his character… is all too plastic.
The guy gets too expressive with his hands… goes overboard with his annoyingly irritating laugh and has all the wrong reactions at the wrong time.
Although Milind Soman does his best to give the Bheja Fry a burnt taste, Vinay Pathak saves it from being over cooked.
So watch it for him and enjoy the difference!
Technorati tags:
Bheja fry
,
bheja masala
,
bheja with nimbu
,
beja curry
,
Bheja Kharab
,
Bheja mat kha
,
beja mai ghus
,
beja fry
,
beja masala
,
Beja review
,
Bheja fry story line
Hope it turns out good
by Avinash Pandey on Apr 04, 2007 05:44 PM Hide replies
This movie theme sounds like a copy of the most famous french movie called " The Dinner Game". The original was absolutely hilarious and i have never laughed so much in my life. Google for more info on the original.
Forward Report abuse
RE:Hope it turns out good
by Nagesh Rao on Apr 04, 2007 07:22 PM
No need to Google.. just log-on to www.imdb.com and search.. or use the direct link given here…
http://www.imdb.com/title/tt0119038/
Forward Report abuse
RE:Hope it turns out good
by Neelam K on Apr 06, 2007 11:21 PM
It shouldn't matter if the movie is original or a copy as long as the movie is well done and actors give their best shot and we all have fun.
Forward Report abuse