Classic Sholay Movie to release in New 4 version sequels
Posted by
bollywoodhub
on Aug 31st, 2007 in
amar akbar anthony
,
basanti
,
Bhoot bangla
,
Classic Sholay Movie
,
dharmendra
,
Gabbarsingh
,
hema malini
,
jai
,
Kumar
,
lawaris
,
namak haram
,
naseeb
,
new sholay
,
old sholay
,
sanjeev kapoor
,
veeru
,
vijay
,
yaarana
|
4 comments
– A Bollywood studio is spending around $100 million to make four versions of "Sholay" considered India's best adaptation of a Western, local media reported.
The deal is one of the biggest in an industry which operates on low profit margins and spends an average of $1-2 million on a film.
Such was the success of "Sholay", a 1975 film about two reformed crooks who save a village from a neurotic, foul-mouthed bandit, that it ran in theatres for years and arguably became the greatest Bollywood film ever made.
Sholay gifted Mumbai Film Industry some undying characters, even today one desires to watch a range of scenes from the movie. It can be the indroductory chat between Jai (Amitabh Bacchan) and Basanti (Hema malini) or Veeru (Dharmendra) and Basanti's (Hema Malini) shooting training scene or Hitler like Jailor played by the (Asrani), its difficult to forget Thakur's (Sanjeev Kumar) ceaseless extraordinary recital when he played a grand father in a age when he was not very old than the heroes of the film.
The characters — especially of the tobacco-chewing, maniacal villain with a staccato laughter — became cinematic legends and inspired scores of films.
The film was repackaged at various times, but an official remake is now going to be made by the Pritish Nandy Communications which has signed a deal with the producers of the original.
The plan is to film a remake, a prequel, a sequel and an animated version of "Sholay".
"The creatives are being discussed," Pritish Nandy, head of the studio known to promote experimental cinema aimed at multiplex audiences, told Reuters.
"As for the size, it could be $100 million. It could be more, we really don't know at this stage," Nandy said. "But yes, $100 million seems reasonably close to it."
Work on the animated version will start in a month or so. "The remake would start almost simultaneously," Nandy said.
The latest attempt to remake "Sholay" sparked a copyright controversy.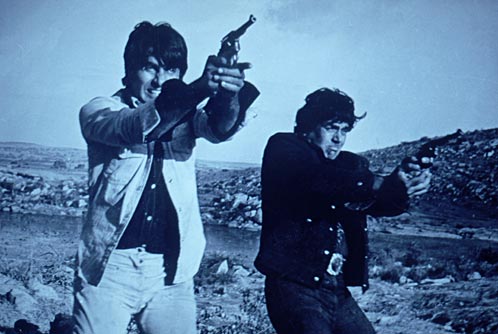 Filmmaker Ram Gopal Varma, who reversed roles of some of the characters in his remake and added his own to the story, has had to rename the film as "Ram Gopal Varma ki Aag" and is releasing it Friday.
WHat ram gopal varma has to say on his sholay remake "
"Amjad Khan and I struck a good friendship during Sholay. In fact, I wanted to play the role of Gabbar Singh and I told this to Ramesh Sippy (producer-director of the original Sholay)," Amitabh Bachchan said in a statement at the Le Meridien hotel in suburban Mumbai at a function held to reveal Gabbar's Singh's new look.It has been three days since the shooting of Ram Gopal Varma's Sholay remake has begun and the film is expected to be released in May 2007.
"30 years ago Gabbar Singh was the villian of Sholay, but today I think he's the real hero. This film is the greatest challenge of my life," Varma said.
"I am overwhelmed and embarrased to unveil this new look," said Bachchan.
Plus + some Bollywood Actors + actresses baby pics