Dostana – Hit or Flop ?
Karan Johar's latest flick Dostana is the most awaited film of the year. The film stars Abhishek Bachchan, Priyanka Chopra and John Abraham in lead roles. Dostana has been directed by Tarun Mansukhani.
Official website of Movie – Dostana with trailers, downloads, photo gallery, information. A Story of Two Guys & A Girl and One tiny Lie.
www.dostanathefilm.com

Movie Details

Genre: Comedy

Language: hindi

Release Status and date: Releasing on Nov 14, 2008
"This is a story about two guys (Sameer – a male nurse and Kunal- a photographer), a girl (Neha- a fashion Journo) and an apartment. Sam and Kunal bump into each other while looking for an apartment to rent and coincidentally head towards the same apartment. However, they are both thrown out because the owner wants to rent the apartment to girls only since her niece stays in that apartment alone.
Sameer gets an idea that if Kunal and he pretend to be lovers, then the owner will agree to let them stay. Even though their plan works, the boys are in a predicament as they both fall in love with the owner's niece, Neha Melwani, who thinks they are gay…."
Track Listing
Dostana – 01 – Jaane Kyun
Dostana – 02 – Desi Girl
Dostana – 03 – Maa Da Laadla
Dostana – 04 – Shut Up & Bounce
Dostana – 05 – Khabar Nahi
Dostana – 06 – Kuch Kum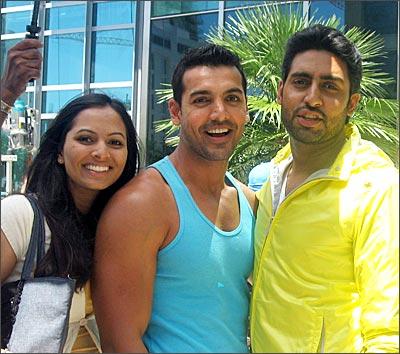 Dostana begins with Jaane Kyun. A perfect title track for the movie. A mix of this and that with catchy lyrics has already got this song popular with the youth. Desi Girl is a perfect Shankar Mahadevan track. You get that Pretty Woman from Kal Ho Na Ho feel. Maa Da Laadla sung by Salim is a naughty number. From the lyrics you can make out it's a fun song on the gay relationship theme in the movie.On the whole the music album is worth checking out if you're into typical Bollywood soundtracks. Don't expect a master piece
With Fans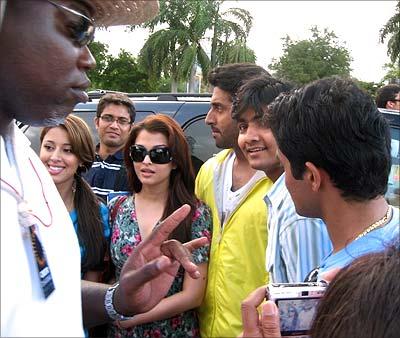 Links on net
http://www.radioreloaded.com/movies/?2098
http://www.songs.pk/indian/dostana.html
Trailer Dostana 2008